The Shaving Cream is for all skin types and contains a dream team combination of skin-nourishing ingredients:
Shea Butter (Butyrospermum Parkil) - A natural moisturizer, ant-inflammatory, skin softener, and wrinkle reducer.

Coconut Oil (Cocos Nucifera) - Saturated fats help skin stay moisturized.

Baking Soda (Sodium Bicarbonate) - Combined with coconut oil, baking soda acts as a natural and gentle exfoliator for the face.

Tea Tree Oil (Melaleuca Alternifolia) - A natural acne fighter that improves skin imperfections.

Sandalwood Oil (Santalum Album) - Great for treating many skin imperfections and has a very soothing fragrance.

Cedarwood Oil (Cedrus Atlantica) - A calming mood elevator.
How to Use: Emulsify into palm of hand until product turns to oil. Use fingers to apply to skin.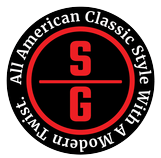 Sharp Gent's provides all-natural grooming products that create classic style with a modern twist. We combine 100% vegetarian and vegan ingredients with certified therapeutic-grade essential oils. Our products are organic, cruelty-free, Fair Trade, and biodegradable.